The next time you are having people over for breakfast or brunch, or if one day you feel like something a little special for breakfast, give these a go! They look gorgeous but are way to simple!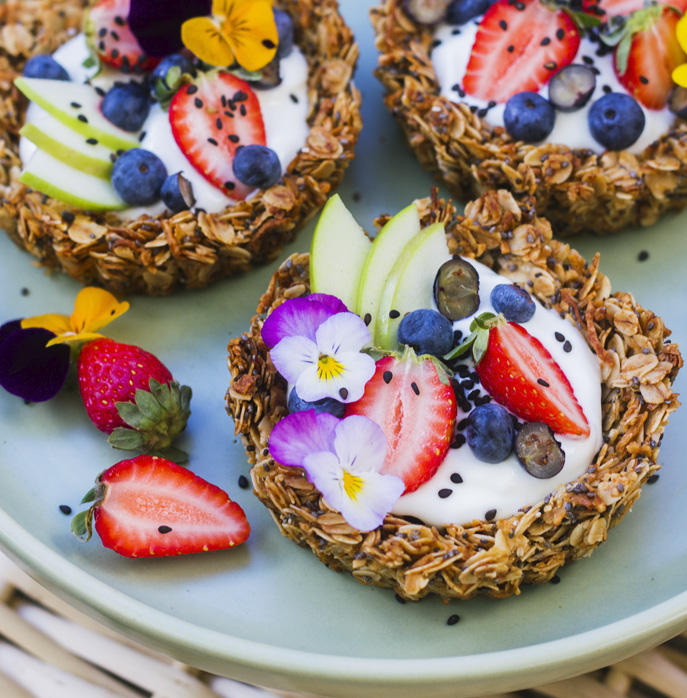 The honey gives the base a real Anzac biscuit flavour which goes so well with the filling, but feel free to substitute maple or rice malt to make them vegan!
The filling can also be swapped for many other things, try coconut yoghurt or even some vanilla cashew cream, two lovely vegan options! The possibilities are endless with these gorgeous tarts!
This show stopping brunch idea is also seriously healthy, practically some granola, yoghurt and fruit, but a whole lot prettier! So go nuts, use whatever fruits are in season and enjoy.
Granola Breakfast Tarts – makes 4 -5 small tarts

1 1/2 cups rolled oats
1/2 cup shredded coconut
2 tbsp chia seeds
1/2 tsp cinnamon
1/4 cup + 1 tbsp coconut oil
1/4 cup honey or maple syrup
Filling
1 cup natural yoghurt or coconut yoghurt ( may need more or less depending on the size of your tarts)
1 tbsp honey, stevia or other sweetener (optional, I didn't add any sweetener)
1 tsp vanilla
Pre-heat oven 10 180
Combine oats, coconut, chia seeds and cinnamon in a large bowl, set aside
Melt coconut oil and honey in a small saucepan over a low heat
Pour melted oil & honey over dry mixture and stir to coat well
Place spoonfuls of the mixture into greased tart tins, using the spoon to press in as much as possible
Bake for around 15 minutes, checking to ensure they don't brown too quickly
remove from the oven and working quickly press into the tin using the back of a spoon a second time
Allow to cool completely before removing from the tins
Add spoonfuls of the yoghurt mixture into each tart and top with desired fruits!