It's that time of year again! I love Christmas and anyone who says they don't must be lying (right?). Whats not to love about being able to eat and drink copious amounts whilst hanging out with your family! When I was younger it was all about the presents, these days it is ALL about the food (and wine!).
if you are looking for an activity for your kids these holidays in the lead up to Christmas these little men are perfect. Get creative with your decorations you could use things like goji berries, nuts, seeds and cacao nibs! You could even make a healthy cashew icing or paint them with maple syrup to ensure your decorations stick. Or of course go for classic icing and sprinkles, it is Christmas after all…
I have added some maca root powder to my biscuits too. The caramel like flavour of maca works really well and gives these biscuits a little something extra nutrition wise!
I do recommend buying your almond meal for this recipe rather than grinding your own as pre ground almond meal will generally be a lot finer then when you do it at home in a food processor!
This recipe does not involve any processed sugar which is fantastic as I'm sure we will all be consuming our fair share over the next month! Instead I have used pure maple syrup and molasses to sweeten and flavour these cookies. Molasses are actually the waste product produced when manufacturing white sugar. It has a dark almost caramel like flavour and as long as you are purchasing the correct type, it is low GI and nutrient dense!
You should be looking for blackstrap molasses as it contains the highest concentrations of vitamins such as iron, calcium, selenium, manganese, potassium, copper and zinc, and the lowest levels of sucrose. Why would you ever use processed white sugar!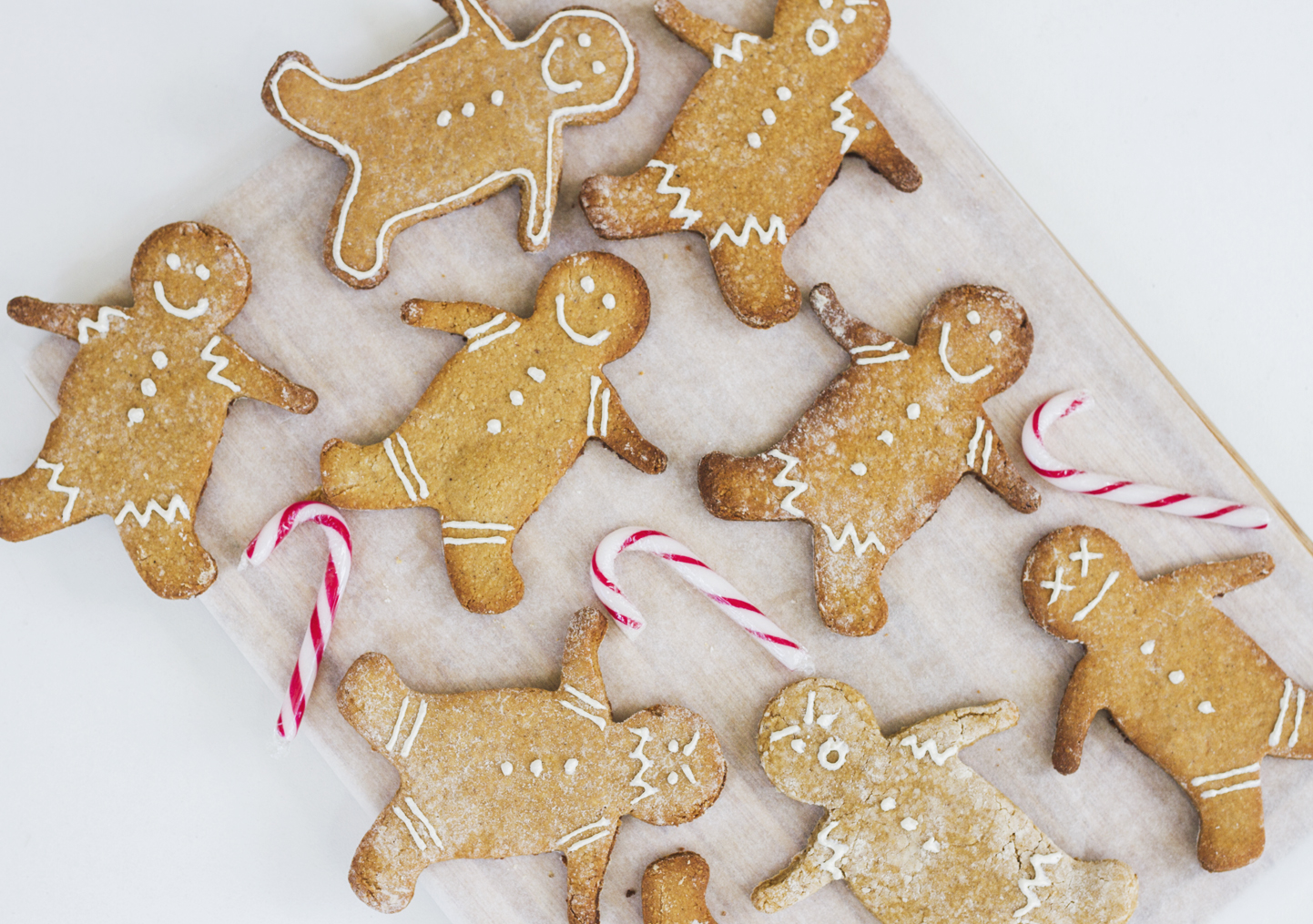 Healthy Gingerbread Men – Makes Approximately 15 Large Men
5 Cups Almond Meal
1/2 tsp baking powder
Pinch of Salt
4 tsp ground ginger
2 tsp cinnamon
1 tsp nutmeg
1 tbsp maca powder (optional)
2 tsp vanilla
2 free range eggs
2/3 cup melted coconut oil – I used H2coco unrefined coconut oil
1/2 cup pure maple syrup
4 tbsp blackstrap molasses
Pre heat your oven to 150

°C

Line a baking tray with baking paper
Place all dry ingredients in a bowl and mix well until all the spices and evenly distributed
Whisk all wet ingredients in another bowl, adding the oil last to ensure it doesnt harden
Pour wet mix into dry and mix well with a spoon until a dough forms – it will be a lot stickier then normal dough and a bit more fragile
Turn dough out onto a well floured board, if you are not gluten free using a small amount of white flour makes kneading easiest, otherwise more almond flour or other gluten free flour
It doesn't need a lot of kneading simply get it into a well mixed ball, cover in glad wrap and place in the fridge for fifteen minutes
Once chilled slightly roll out to approximately 1/2 cm thick and use a cookie cutter to cut out your men
Place onto baking tray and bake for 15-20 minutes, longer depending on how crunchy or soft you like your biscuits – you may have to cook in batches as this recipe makes quite a few men
Allow to cool fully before decorating
Get the kids involved in every aspect possible I'm sure they will love cutting out the men just as much as decorating! Goodluck and Merry Christmas!