Filling children's bellies with wholesome nutritious foods has got to be a priority, unfortunately that is much easier said then done. With this healthified version of such a classic recipe I'm betting your kids wouldn't even notice the difference! Of course these treats are perfect for big kids too!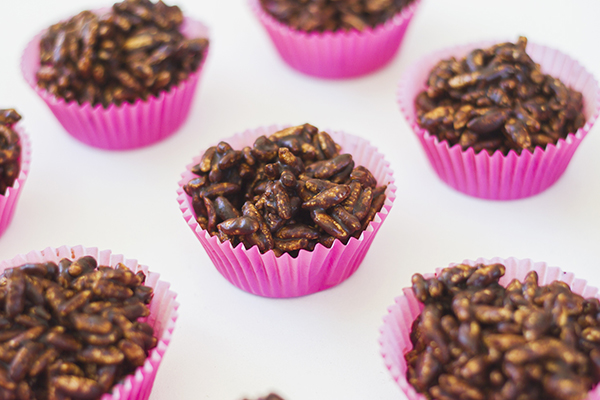 The classic recipe for chocolate crackles, which im sure we all remember from our childhood, is made from copha. Copha is hydrogenated coconul oil, it is 100% fat, at least 98% of which is saturated. The small portion of unsaturated fatty acids in coconut oil are hydrogenated, creating some trans fats. Hydrogenating also keeps coconut oil solid at higher temperatures. Using unrefined virgin coconut oil is a much healthier alternative, whilst not changing the flavour or texture much at all!
When purchasing the puffed rice buy brown rice if possible, and ensure there are no additives of any kind! You could even add all sorts of other things to the mix such as shredded coconut or dried fruits!
Chocolate Rice Crackles
2 Cups Puffed Brown Rice
1/4 cup un-refined coconut oil
1/4 cup honey (could sub rice malt syrup or maple syrup)
1/3 cup cocoa or raw cacao powder
2 tbsp peanut butter
1 tsp vanilla
Line muffin tin with muffin cases
Place puffed rice into a large bowl
Place all wet ingredients into a small saucepan and melt over a low to medium heat until completely melted and smooth
Poor wet ingredients onto puffed rice and stir gently until the rice is completely covered
Place spoonfulls into patty pan cases
place into the fridge to set
store in the fridge in an airtight container
Super quick easy recipe, perfect for a party or just an after school treat! Enjoy!