These delicious energy bars taste like a combination between lcm bars and chocolate crackles, but made with lots of wholesome ingredients to keep you going!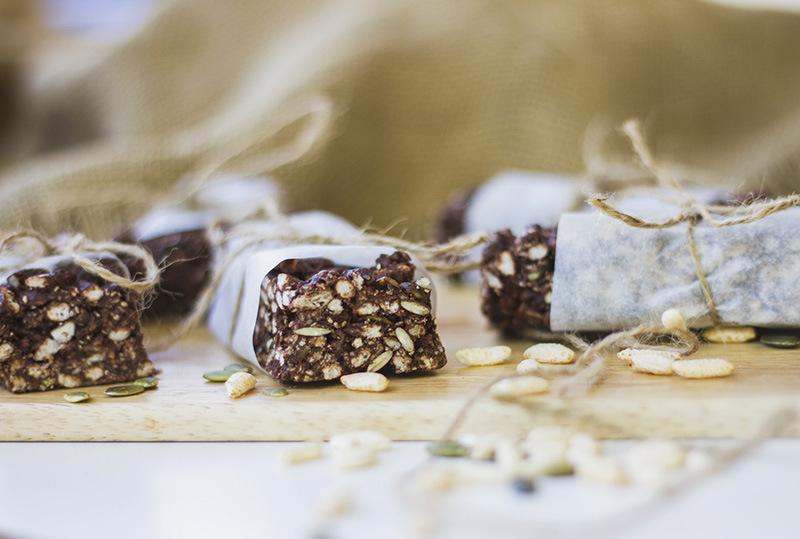 When you live with a person whose go to afternoon snack is anything chocolate flavoured, you need to have a healthy option ready to go. These bars are super yummy and pack a massive nutritional punch involving healthy fats, antioxidants and wholemeal grains! These are also perfect for the kids lunchboxes as they are a sweet chocolatey treat that they will love whilst supplying them with a much more healthy alternative to most sugar laden muesli bars on the supermarket shelves.
Feel free to change up the ingredients to whatever nuts and seeds you prefer! You could even use just puffed brown rice and then they would be just like lcm bars!
Wholefood LCM Bars
2 cups puffed brown rice cereal
1/2 cup oats
1/2 cup pepitas
1/2 cup shredded coconut
1/4 cup dark chocolate pieces
2tbsp maca powder (optional)
3 tbsp cacao powder
1/2 cup coconut oil
1/3 cup rice malt syrup (can sub honey too)
1/4 cup peanut butter
1 tsp vanilla
Line a slice tin with baking paper
In a large bowl combine rice, oats, pepitas, coconut, chocolate, maca and cacao powder. Mix to combine and coat with the cacao powder.
In a small saucepan melt coconut oil, sweetener, peanut butter and vanilla over a low heat until completely melted
Pour melted liquid over dry ingredients and stir until completely coated in the wet mix
Pour into prepared tin and press down firmly and evenely
Place into the fridge to set around half an hour
Once set remove from tin and slice with a warm knife into desired sized bars
Store in the fridge!
Yum! Test these out of your kids I'm sure they will love them!… and I bet you will too!