Oh boy, I'm going to have to say it…I think this is possibly the best dessert I've made yet! Just look at that gooey caramel, topped with the soft shiny chocolate ganache, seriously, look…
This dessert is enough to convince even the biggest raw dessert non believers! The texture is so similar to the real deal no one will tell the difference. But really, you could have a slice of this and be powered up full of nuts a dried fruits ready for a workout!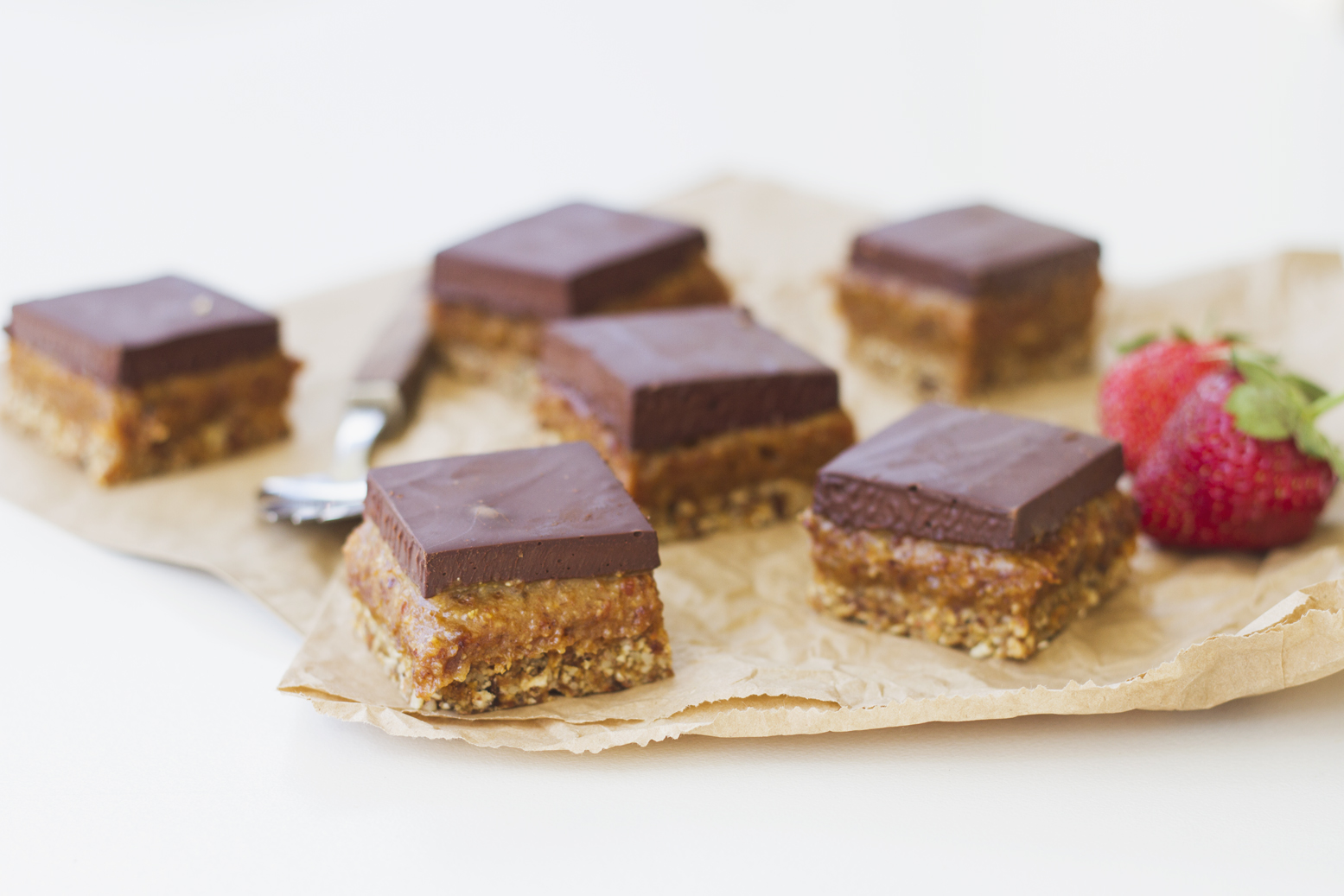 I find it really handy to have some form of raw dessert handy in the fridge or freezer during the week for when I'm craving something sweet, or when my partner is eating chocolate! This slice is still high in calories but it is full of healthy fats, protein and antioxidants! It can also be made gluten, dairy free and vegan! The key really is to chose an excellent quality chocolate for making the ganache out of. Make sure it is 60-90% cacao, that will ensure lots of antioxidants, and less sugar. You might also like to pick a dairy free chocolate, or even a raw chocolate like Loving Earth! The choice is up to you to be as creative as you like.
Raw Caramel Slice
For the Base
1 cup dates
3/4 cup almond flour
3/4 cup oat flour
tsp vanilla
1-2 tbsp water
For the Filling
2 cups dates
1/2 cup almond butter
1/2 cup almond milk
1 tbsp rice malt syrup
tsp vanilla
For the Ganache
220g Dark chocolate of choice
200ml low fat coconut cream
Combine all base ingredients in food processor and blend until sticky – add water here if neccessary
Press base into pan and place in freezer while you prepare the filling
Place all filling ingredients in food processor and blend until smooth – you may have to scrap the sides a few times!
Spread filling on top of base and place back into freezer while you make the ganache
Break chocolate into small pieces and place into a bowl
Gently warm coconut cream in saucepan until just boiling and pour onto chocolate – reserve a small amount of the coconut cream in case you need more warmth
Whisk until the chocolate is completely melted and smooth
Pour ganache on top of the slice and place into the fridge to set
Once well set run a sharp knife under hot water before slicing as it is quite sticky!
There you go! This is a raw dessert that certainly has the wow factor so bring this out at your next event and expect people to be impressed!