It was only a matter of time before I created this recipe. I am sure you have all realised by now that I am somewhat obsessed with the chocolate + peanut butter combo, chuck a bit of banana in there and then you have a serious flavour party on your hands, or in your mouth.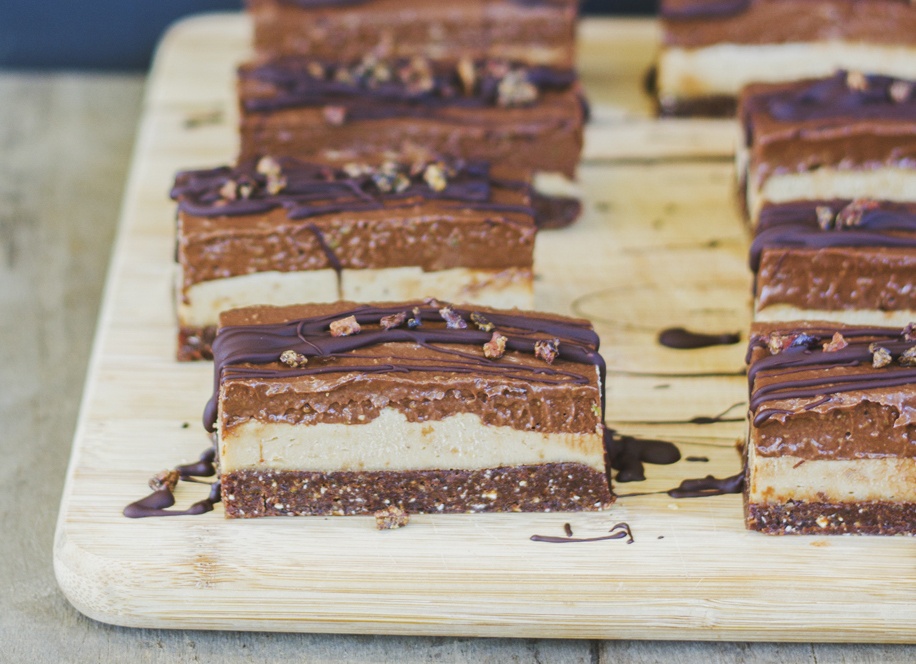 The mixture of textures in this slice is what really makes it something special. I know how hard it is, but you MUST leave it to thaw for a few minutes from the freezer before serving I promise it is worth it to have that soft mousse on top. Although I certainly wont be the one  judging you when you have your hands in the freezer late at night sneaking a slice still frozen, believe me.
This mousse is my newest obsession. It seriously tastes like the real thing, but is healthy enough to devour for breakfast with berries, which is next on my to do list.  As for the health benefits, it is packed full of heart healthy monounsaturated fats from the avo and coconut, loads on antioxidants from the cacao and its sweetened naturally with dates and honey!
This is a dessert you can feel good about eating, it is deliciously rich too so you only need a small piece to be satisfied.
Peanut Butter Chocolate Mousse Slice
Base
1/2 cup almond meal
1/2 cup oats
2 tbsp cacao powder
2 cups pitted dates
1 tsp vanilla
Peanut Layer
1 cup natural peanut butter
1 banana
2 tbsp milk
2 tbsp coconut oil
1 tsp vanilla
pinch salt
Chocolate Mousse
1 avocado
4 medjool dates
1 tbsp honey
1 cup light coconut milk
1/2 cup cacao powder
1 tsp coffee powder (optional)
1 tsp vanilla
pinch of salt
Place all base ingredients into food processor and process until sticky, adding water if necessary
Press base out evenly into lined slice tin and place into the freezer
Place all peanut filling ingredients into food processor and blend until smooth, you may have to scrape the sides once or twice
Spread filling evenly on top of slice base and place back into the freezer while you make the mouse
Clean out your blender before making your mousse to keep the flavours seperate
Place all of the mousse ingredients into the food processor and blend until smooth, wiping down the sides as necessary
Spread mousse on top of your slice trying your best to make it nice and even
Place into the freezer for 2-4 hours to set, slice into desired sized slices once frozen and allow to that for around 10 minutes before serving
I melted some sugar free dark chocolate over the top and sprinkled some cacao nibs over to make it extra special! Enjoy this delicious creation! X