It is a momentous day! My first savory recipe is going live! Even though I cook dinner for myself and my boyfriend every day I still find main meals to be my biggest struggle when it comes to cooking, but in just a year my skills have improved drastically (just ask my boyfriend), so I am very excited to start sharing some recipes with you all!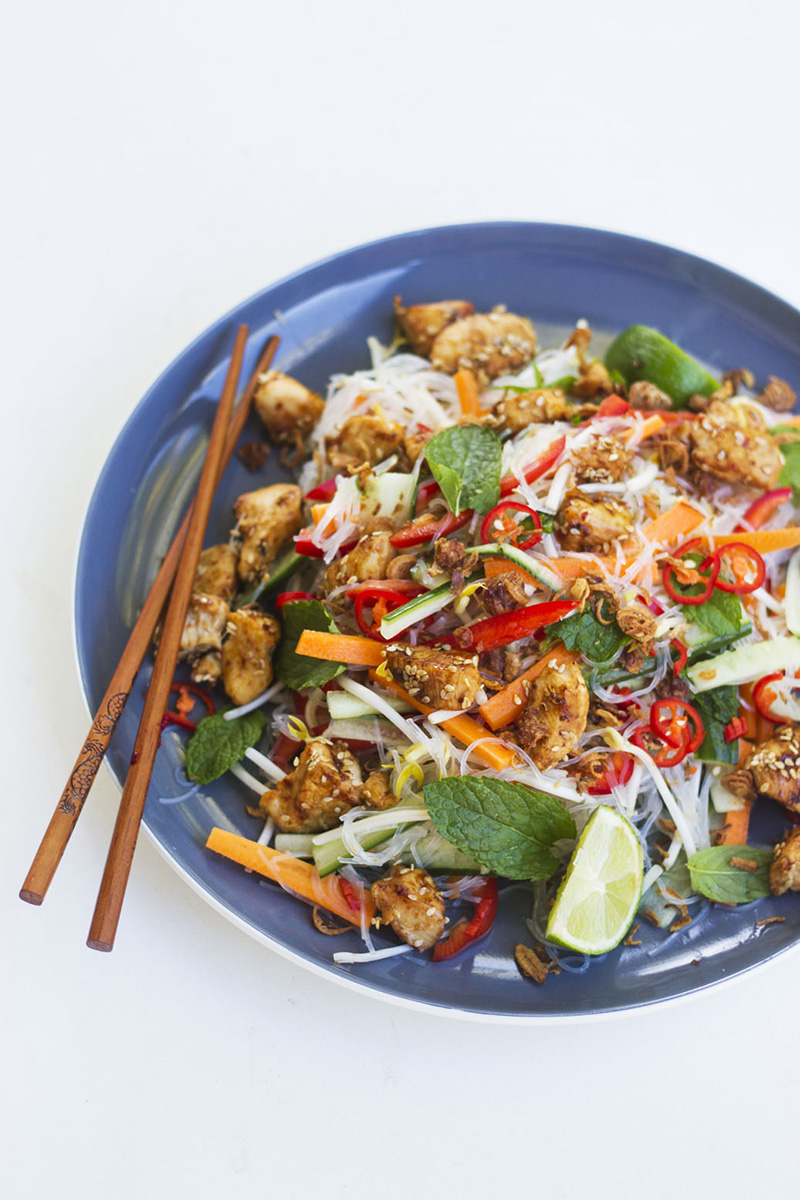 Asian food is definitely up there as one of my favourite cuisines, how could it not be when it is so full of flavour, freshness and vibrant ingredients. In summer, meals such as this one are a staple in our weekly routine we simply change it up depending on what veg we have or what protein we feel like.
It can be really easy to fall into the trap of simply buying pre made salad dressings, but then you run the risk of involving many unnecessary additives and sugar in your meals! I make all of my dressing from scratch and really, once you learn the basics it is so simple. This dressing the perfect example of that using only a few kitchen staples to make a delicious tangy sauce.
You really cant go wrong with this salad, it is full of fresh fruit and veg, herbs, lean protein and a zingy low fat dressing! Perfect for lunch or dinner and can be altered, for example replacing chicken with tofu, to better suit your needs!
Vietnamese Noodle Salad – Serves 2 Generously
For the Chicken
2 Chicken Breasts cut up in bite sized pieces
2 tbsp sweet chilli sauce
juice of half a lime
1 tbsp sesame seeds
For the Salad
100g dried rice noodles
1 carrot, thinly sliced
1/4 of a cucumber, thinly sliced
half a red capsicum. thinly sliced
1 cup bean sprouts
Handful fresh mint leaves, torn
Half a red chilli, chopped
handful of fried shallots
Dressing
1/8 cup fish sauce
1/8 cup rice vinegar
1 tbsp coconut sugar
1/4 cup water
1 garlic clove, crushed
other half of the red chilli, finely chopped
Juice of half a lime
Place chicken into large pan and cook until brown
Add in sweet chilli sauce and lime and cook until it begins to caramelize
Add sesame seeds and stir through to coat then remove from heat
Whilst the meat is cooking combine all dressing ingredients in a small bowl mixing until well combined and the sugar is dissovled, set aside
Prepare noodles as per packet instructions, then rinse under cold water to prevent further cooking
Place noodles in a large mixing bowl with all the vegetables, mint and chilli and stir in the dressing ensuring everything is coated
Place salad into bowls and top with the fried shallots and chicken
Serve immediately
Yum! A great salad for entertaining too as you can make a big batch and let people pimp their own with more chilli or more fresh lime! Enjoy X