It gives me energy just thinking about how many nutrients are in this one cup! This smoothie has become a regular in my morning ritual, it is full of protein, healthy fats and a crazy amount of nutrients, and never mind all of that because this smoothie is DELICIOUS.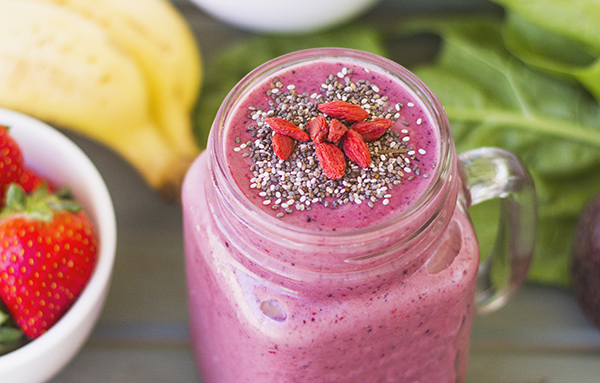 Like any smoothie, you can change up or leave out any of the ingredients, but this combo is seriously heavenly! To list just a few of the health benefits packed into this cup, increased energy, clear skin, boosted metabolism, faster muscle recovery and a huge hit of antioxidants! Could there be any better way to start your day?
if you don't have a very strong blender feel free to use non frozen fruit, you may want to add some ice cubes if that is the case. Also, a handful of spinach wouldn't go astray thrown into the mix in order to get some greens in early!
Berry Banana Bonanza Smoothie – makes 1 large serve or 2 smaller
1 frozen banana
1 cup mixed frozen berries
1/4 cup natural/soy/coconut yoghurt
1 – 2 cups almond milk
1 tbsp natural peanut butter
1 tbsp coconut sugar
1 tsp chia seeds
1 tsp acai powder
1 tsp cacao powder
1 tsp maca powder
Place all ingredients into a blender, starting with one cup of almond milk, and blend
Add more milk if you want a thinner consistency
Pour into a cup and enjoy!!