If you haven't tried the lime + chocolate combo, you are missing out. I can't explain it but it is the richest, most indulgent flavour combination, making these mini tarts to die for!
After going to the taste testers last night, aka the family, these babies got rave reviews. They are rich without being too sweet and leave you feeling satisfied but not weighed down. I have used an 85% cacao chocolate which is very low in sugar and that worked perfectly in conjunction with the sweet, chewy crust. You could certainly use a raw or dairy free chocolate too, but make sure it is dark and has a high percentage of cacao so that you get the added health benefits and the end result is lovely and rich!
If you don't like the lime and chocolate combo, you could definitely swap it for orange, or just leave it out altogether, completely your choice, but i definitely recommend it.
If you really wanted to make these indulgent you could candie the lime slices before putting them on top for garnish! Get creative and enjoy these healthful indulgent treats!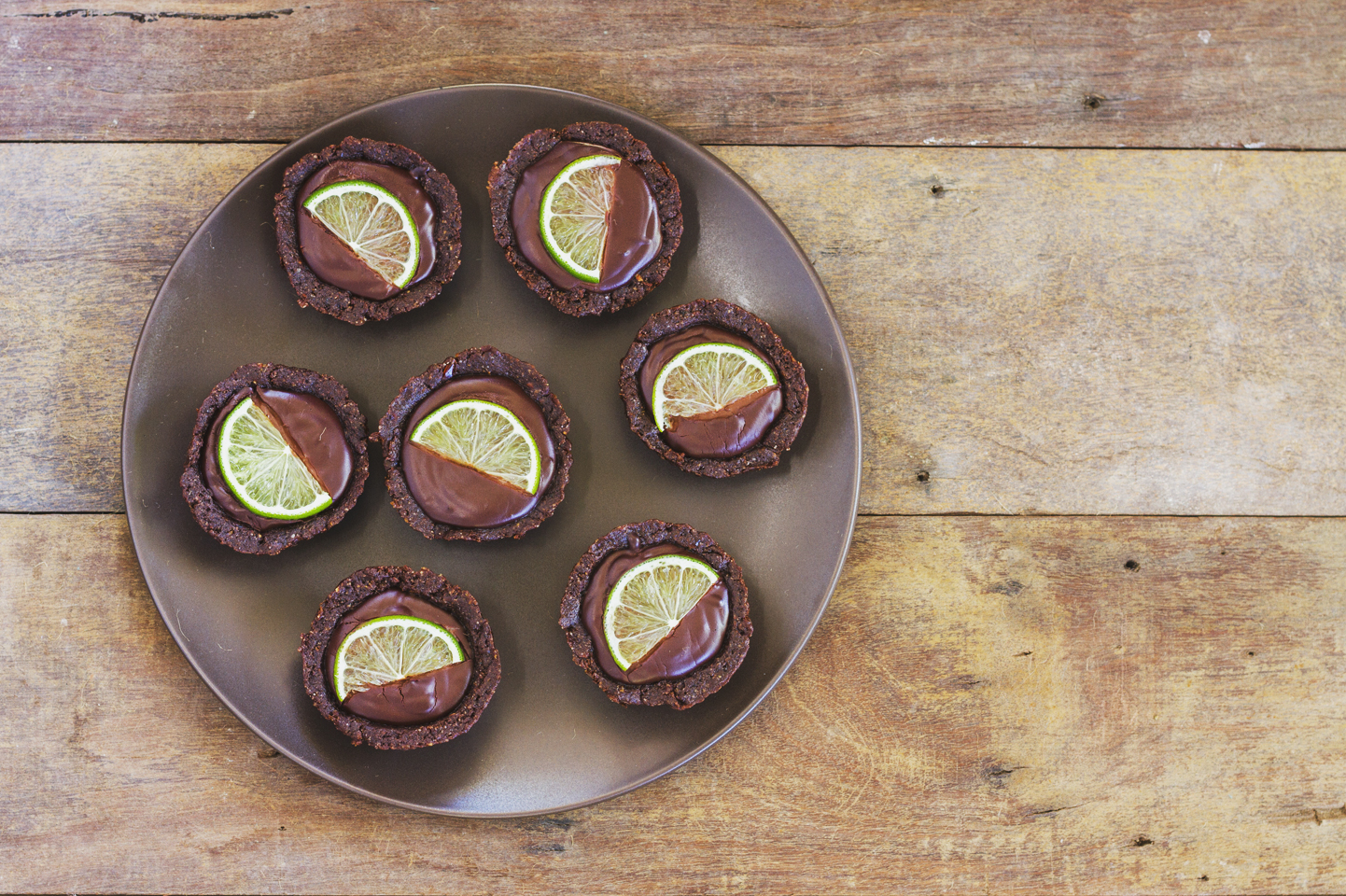 Chocolate and Lime Tartlets
Crust
1 cup almond meal
1 cup dates
3 tbsp cacao powder
1 tsp vanilla
pinch of salt
1 tbsp water – optional
Filling
200g 85 – 90% dark chocolate or raw chocolate
200 ml light coconut cream
Zest of 1 – 2 limes
Juice 1/4 of a lime
Lime half slices for garnish
Spray tart pan well with oil
Place all crust ingredients into food processor and blend until sticky, add water very slowly if necessary
Press mixture into pan shaping with your fingers, then place in the fridge while you make the filling
Put all filling ingredients into a small saucepan and heat over low temp until completely melted
Pour filling into tart cases and place lime slices on top
Place into the fridge until set – about an hour
Prepare to impress your guests!