After wanting to try out a raw 'cheesecake' recipe for ages I finally got the chance! And this recipe is a beauty! After being taste tested it got the tick of approval so now it is time to share it with you all!
The first discovery we made when all sitting around tasting this delightful cake was that it really tastes better when called something other than 'cheesecake'. As it contains no cheese whatsoever (gluten free AND vegan!!) if you go into this expecting it to taste the same you may be left somewhat confused and disappointed! What this cake does bring to the table is a whole new flavour and texture providing a lovely creaminess with a nutty chewy base, without being too sweet or leaving you feeling weighed down!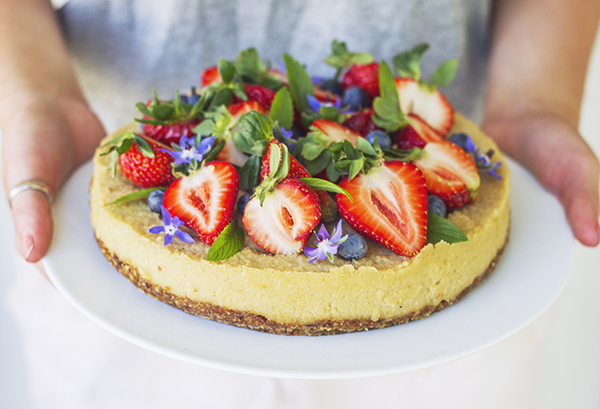 This cake really is a blank canvas for you to do with as you please. Served simply with berries is lovely but there is a multitude of other ways you could spice up this recipe, literally! Adding some festive spices would make this cake perfect for the coming months, or making it more decadent with the addition of cacao or peanut butter, or both! I encourage you to experiment with it!
Raw Cashew Cake
Base
1/2 cup almonds
1/2 cup dates
tsp vanilla
Filling
3 1/2 cups cashews -soaked for 2-4 hours or overnight
juice of 1 lemon
1/2 cup melted coconut oil
1/2 cup coconut milk
seeds from 2 vanilla beans OR good quality alcohol free vanilla
1/2 cup honey or rice malt syrup for vegans
Soak your cashews in enough water to cover them and set aside for at least 2 hours
Place almonds dates and vanilla into your food processor and blend until sticky – can add water if not sticky enough!
Press base mixture into a lined spring form pan then place into the fridge whilst you make your filling
Place all filling ingredients, including drained cashews, into food processor and blend, scraping the sides occasionally, until nice and smooth
Pour filling onto base and smooth over the top
place cake into the freezer until well set – a few hours
Once set cake can be stored in the fridge or freezer
Decorate with berries or other ingredients of your choosing!
A great cake to serve at Christmas as a lighter alternative to all that fruit cake and custard! Enjoy!