Who doesn't like a chewy, crunchy, rich chocolate bar? No one that's who. And this recipe has all that and more! It has a chewy nutty base, sweet gooey caramel with crunchy pieces of peanut swirled through and then a smooth chocolate ganache on top to finish it all of….and its healthy! (hallelujah!)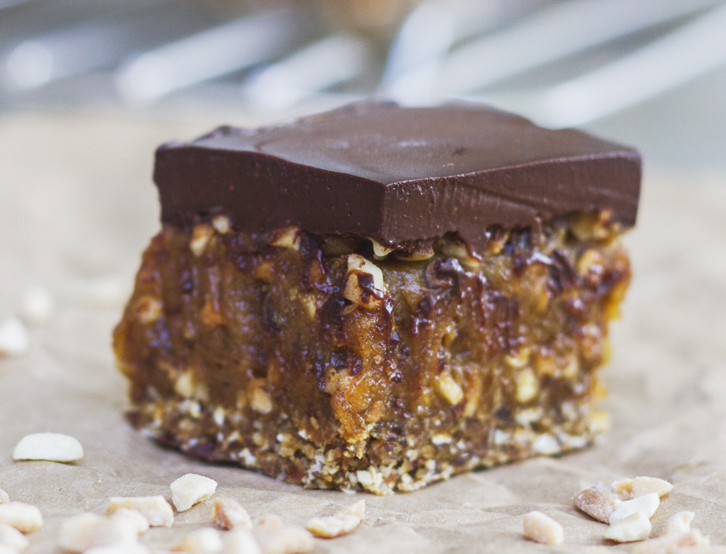 I think you should definitely be serving this next time anyone comes around, whether your health conscious or not because it is just so ridiculously yummy, and it really is brimming with wholesome ingredients! Nuts and dried fruits are a common healthy choice for your afternoon snack, so why not munch on of these indulgent bars instead? You will still be getting all of those health benefits, but you taste buds will be super happy too! Don't be afraid to go crazy with the peanuts, they really make this something special.
Raw Snickers Slice
For the Base
1 cup dates
3/4 cup almond flour
3/4 cup oat flour
tsp vanilla
1-2 tbsp water
For the Filling
2 cups dates
1/2 cup peanut butter
1/2 cup almond milk
1 tbsp rice malt syrup
tsp vanilla
1/4 – 1/2 cup whole or crushed peanuts
For the Ganache
220g Dark chocolate of choice
200ml low fat coconut cream
Combine all base ingredients in food processor and blend until sticky – add water here if neccessary
Press base into pan and place in freezer while you prepare the filling
Place all filling ingredients except peanuts in food processor and blend until smooth – you may have to scrap the sides a few times!
Stir through peanuts
Spread filling on top of base and place back into freezer while you make the ganache
Break chocolate into small pieces and place into a bowl
Gently warm coconut cream in saucepan until just boiling and pour onto chocolate – reserve a small amount of the coconut cream in case you need more warmth
Whisk until the chocolate is completely melted and smooth
Pour ganache on top of the slice and place into the fridge to set
Once well set run a sharp knife under hot water before slicing as it is quite sticky!
Store in the fridge
Heaven! Now go sit back and enjoy this delicious nutritious snack!