After receiving a few emails asking for snack ideas that are healthy and high in protein I decided it was time to come up with a protein ball recipe!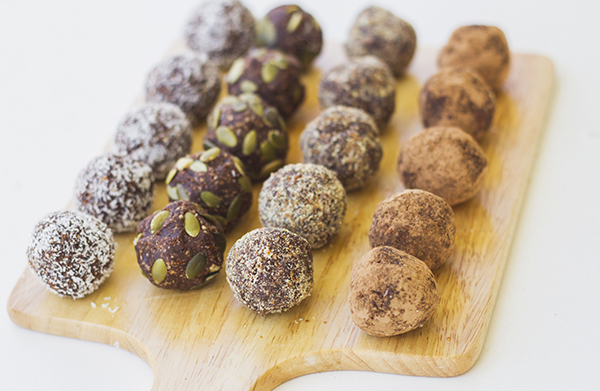 It is important when consuming protein that you don't go overboard, which many people do! Protein is essential in a healthy diet, especially if you are highly active. It is recommended that we get around 15% of our daily food intake from protein, which isn't a huge amount! So if your adding protein powder to your smoothies, having eggs and chicken for lunch and dinner and eating snacks which have added protein in them its safe to say you might be consuming too much! Having said all of that these balls are the perfect afternoon and post workout snack to help with sugar cravings and muscle recovery!
The type of protein powder you add to these is up to you! There are many different types around and it is possible to find brands which are suitable for vegans and vegetarians, so look around before deciding on the first one you see in the supermarket!
These can also be great fun to make with the kids, with all the ball rolling and topping choices! Although you may want to leave out the protein if the kiddies will be eating them.
Choc Almond Protein Balls – Makes approximately 20 – 22 balls
1 cup almonds
1/4 cup oats
1/4 cup shredded coconut
3 tbsp cacao powder
3 – 5 tbsp protein powder of choice
1 tsp vanilla
1 tbsp maca powder (optional)
2 cups dates
2 tbsp almond milk if too dry
toppings of choice – Eg. Coconut, cacao, chia seeds, almond meal etc
Place almonds, oats, coconut, cacao, vanilla, maca and protein powder into food processor and process until fine and crumbly
Add dates whilst processor is running
Mix should be sticky enough to be rolled into balls if still a bit too dry add almond milk
Roll into balls and cover in toppings of choice
Store in the fridge
Too easy! Prep a batch of these on Sunday and you'll be all ready for the week ahead!